At TEPCON, our values stand on the pillars of Respect, Safety, and Teamwork. And, while we may be a full-service general contracting firm, we firmly believe that there is a duty to utilize these values not only to our clients and vendors, but to one another as a team, and most importantly, to our community.
That's why we created TEPCON Cares, TEPCON's community outreach sector that works to strengthen, enrich, and support the surrounding community. From local street cleanups that the entire TEPCON team participates in to care packages available for employees to take and give to community members in need, TEPCON Cares is a company culture shift toward community impact that all of our team members are involved with.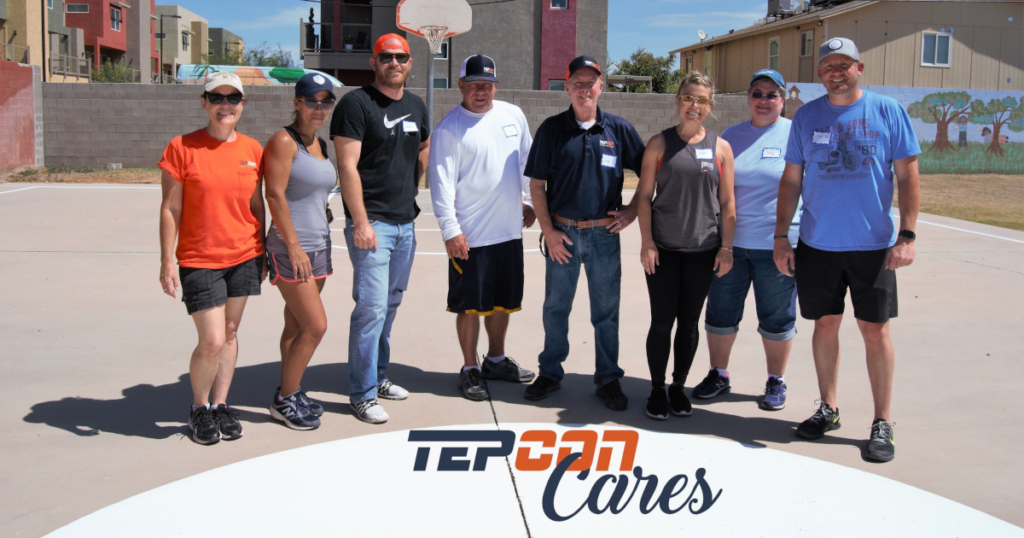 TEPCON Cares & HandsOn Greater Phoenix
TEPCON volunteered for the organization HandsOn Greater Phoenix, a non-profit volunteer management organization who matches service and government agencies with community individuals from all walks of life. HandsOn Greater Phoenix partnered our team with local charter school Esperanza Prep Academy. From painting the basketball court to relocating and organizing the school's library, we worked alongside HandsOn for our community and aimed to bring value and strength to this high-risk school.
TEPCON Cares & Keep Scottsdale Beautiful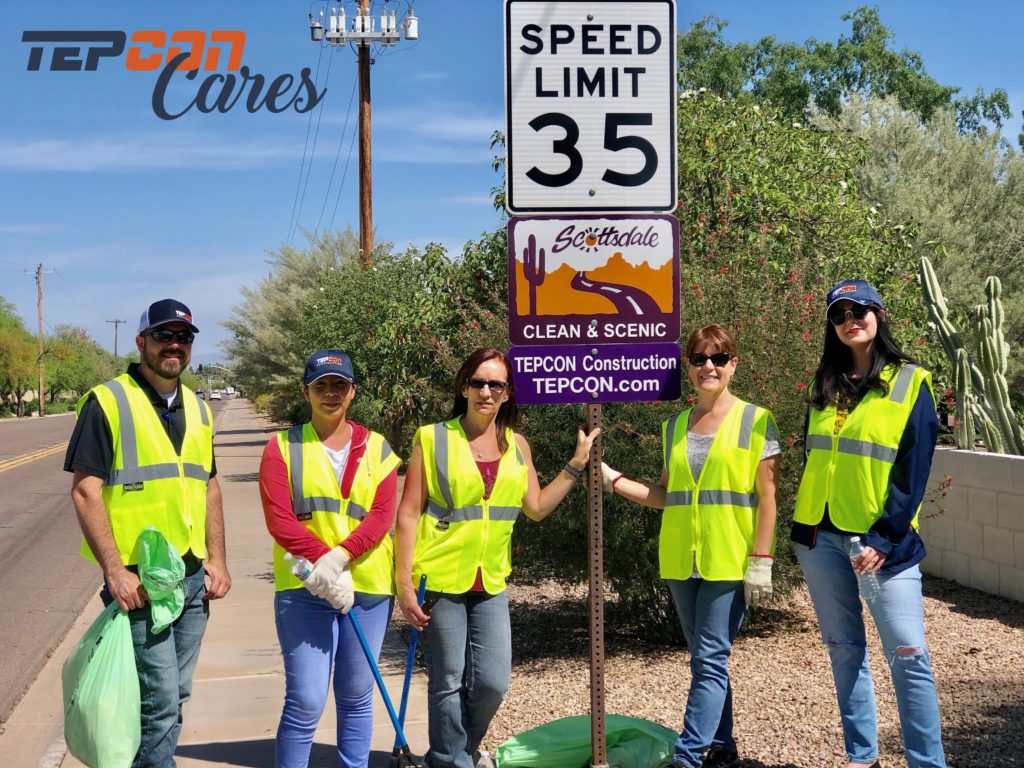 TEPCON Cares also works alongside Keep Scottsdale Beautiful each year by participating in the street cleanup. Enriching the community starts – literally – from the ground up, and our efforts at the annual street cleanup help to beautify the neighborhood as well as create a team bond based on giving between the TEPCON team. Every year, our office members help to pick up trash along Chaparral Road as a way to work with our community toward a common goal.
TEPCON Cares & the Community
At TEPCON, walking the walk is more important than all the chatter. That's why we're proud to work with the following local, national, and global organizations.
100 Club
Adopt a Street
Child Crisis Arizona
Esperanza Prep Academy
Habitat for Humanity
HandsOn Greater Phoenix
ICM Food and Clothing Bank
Keep Scottsdale Beautiful
Pipeline Worldwide
Sojourner Center
By working alongside our community, TEPCON Construction represents our core values of Respect, Safety, and Teamwork. TEPCON Cares is our way of giving back to the local community in a year-round effort, through volunteering and mentorship opportunities, working together as a team for a greater good, and sustaining a company culture that embodies gracious giving.
TESTIMONIAL
"TEPCON builds community in more ways than one. Beyond their multitude of commercial construction projects throughout the Valley, their employees came out on a Saturday to spruce up Esperanza Prep school. Employees showed up ready to dig in. In just a few hours, they relocated the school library and restriped their basketball court. The students, staff and principal were over the moon! Many thanks Team TEPCON for sharing your time! We look forward to future projects with you."
— Rhonda Oliver, CEO of HandsOn Greater Phoenix